Host an Event
Learn everything there is to know about hosting a diving event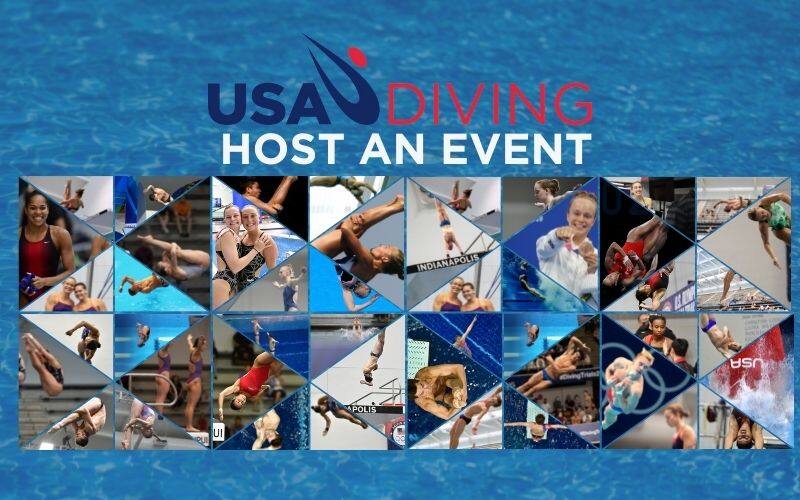 Diving is a youth and family-oriented sport that also serves the extreme sports market with visual appeal. As one of the nation's most decorated with 138 Olympic medals, it is routinely one of the first sporting events to sell out at the Olympic Games and among the top four most-watched sports during the Summer Games.
Our member-driven organization is comprised of divers, coaches, parents and fans who share a love for the sport of diving and who exhibit fierce brand loyalty to the sponsors and partners who support our organization. USA Diving has over 355,000 followers across its four main social media platforms: Instagram, Facebook, Twitter and TikTok, with even more viewers tuning in for our live-streamed events.
Every Olympic Diver makes their way through our program, diving at the regional, zone and National Championships. Our events are the perfect opportunity for your city and local businesses to get national exposure and become a part of the USA Diving's Olympic story.
Hosting a USA Diving championship has numerous benefits, which
include:
The nation's top divers (including Olympians for senior national championships) competing for national titles in your city
Broadcast opportunities & national media exposure for promotion of your city
Economic impact, as families will travel from all areas of the country to your city, utilizing local hotels, restaurants, etc.
Encouraging youth sport in your community and growth for your local diving club program
Hosting the third most popular summer Olympic sport in your town
USA Diving's competitive calendar
includes:
- 12 Region Championships* – Junior (April/May)
- 6 Zone Championships – Junior (June)
- USA Diving Championships – Junior and Senior
- USA Diving Winter National Championships - Senior
*Regional Events are currently scheduled by individual regions
Event Organizer Athlete Safety
Requirements
The USA Diving Athlete Safety Procedures for Event Organizers outline the required Athlete Safety elements for USA Diving sanctioned events. This applies to National-level events that are run by the National Office Staff as well as local events run by USA Diving Member Clubs. Any event may be audited at any time by USA Diving and/or the U.S. Center for SafeSport.
Events currently open for
bids
If you are interested in hosting an event in the 2025-2028 cycle, please reach out to Olivia Rosendahl (oliviar@usadiving.org).
Spring Nationals (May 2025)
Junior Zone Championships (June 2025) - 6 locations
U.S. Open Championships (August 2025)
Winter National Championships (December 2025)
Spring Nationals (May 2025)
Junior Zone Championships (June 2026) - 6 locations
Junior National Championships (July-August 2026)
U.S. Open Championships (August 2026)
Winter National Championships (December 2026)
Spring Nationals (May 2027)
Junior Zone Championships (June 2027) - 6 locations
U.S. Open Championships (August 2027)
Winter National Championships (December 2027)
Spring Nationals (May 2028)
Junior Zone Championships (June 2028) - 6 locations
Junior National Championships (July-August 2028)
U.S. Open Championships (August 2028)
Winter National Championships (December 2028)

Facility Requirements
Senior events, Junior Zones and World Aquatics events will require:

Facility with two 1-meter and two 3-meter springboards, 5-, 7.5- and 10-meter platforms

Junior National Championship events will require:

Facility with four 1-meter and four 3-meter springboards, 5-, 7.5- and 10-meter platforms