Gibson and Palmer Place Eighth in Womens 3 Meter Final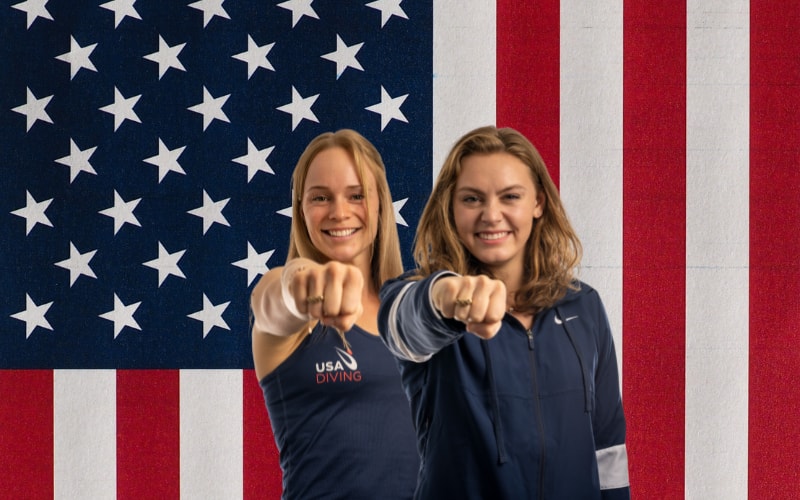 U.S. 3-Meter Synchro partners Alison Gibson and Krysta Palmer made their Olympic debut during the first day of Diving competitions at the 2020 Tokyo Olympic Games. The duo went into the competition with an aggressive dive list with a cumulative 13.4 degree of difficulty spread out among their five dives, including their newly added double-out, a forward 2 ½ somersault 2 twist pike which has a whopping 3.4 degree of difficulty rating. Currently, the pair is the only women's synchro team in the world competing that dive. Additionally, they were the only pair to compete two dives above a 3.0 degree of difficulty, making their work cut out for them.
After their first two dives, an inward dive pike followed by a reverse dive pike, Gibson and Palmer found themselves sitting in first place after receiving 8's and 8.5's from the judges on both dives. Their third dive, a back 2 ½ pike was a bit shaky earning a range of scores from the judges between 5 and 7.5 moving the duo to sixth. After a less than ideal forward 3 1/2, they moved into eighth place and were unable to regain ground despite having a solid final dive. The duo ended the day in eighth with a total score of 263.49.
While the two didn't have the day they hoped for, they ended their event optimistic and grateful.
"We're just so happy and blessed to be here honestly," said Palmer, "and I think we went into this just wanting to have fun and stay as relaxed as possible, that's what helps us dive, and so keeping that, keeping in who we are in the mix of our diving is what we wanted to do."
"And I think the thing is we do this sport because we love it," added Gibson, "and that's the core of it. Some days are good, some days are bad but in the end we're doing it because we love it and that's something we kept reminding each other."
While some might have questioned their decision to have such a difficult degree of difficulty, the two are happy with their decision to take the risk.
"We wanted to take the risk," said Palmer, "these dives matched up the best out of all of our dives."
"We're very capable of doing all these dives really well," added Gibson, "We're really comfortable with that list."
The list of dives they performed was the same list which won them the Olympic Trials. Their competition today marked the fourth time ever that they performed their double-out in competition, having switched from a full out which was previously part of their list. The duo made history as the first female synchro team to ever compete a double out dive in the Olympics as well as competing the highest-ever degree of difficulty dive and list.
Palmer will continue her Olympic journey competing in the 3-Meter Springboard preliminary round on July 31. The U.S. Olympic Diving team's next event is Tuesday July 27, 2021 where Jessica Parratto and Delaney Schnell will compete in the 10-Meter Synchronized Final. Live broadcast will be available on CNBC as well as streamed on NBCOlympics.com starting at 2am EST.
Follow @USADiving on Twitter for up-to-date information on the U.S. Olympic Diving Team in Tokyo.
For broadcast information on the upcoming events, visit: https://www.teamusa.org/USA-Diving/News/2021/July/22/Tune-into-Diving-in-Tokyo
To learn more about the 2020 U.S. Olympic Diving Team, visit: https://www.teamusa.org/USA-Diving/2020-Olympic-Diving-Team