Get to Know Olympian Hailey Hernandez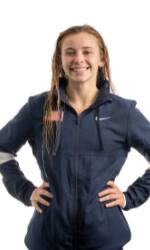 Hometown
Southlake, Tx
Social Media Handles
Instagram: @_hailey.hernandez_
Twitter: @_haileyhern
How did you get into diving?
My older Brother was a diver and I've always looked up to him and wanted to follow in his footsteps. When we were younger he would try to teach me his flips and tricks and I fell in love with the sport.
Where do you currently train?
Keller, Tx
Who is your role model?
My Brother
Most meaningful accomplishments
2020 Olympian
2019 Fina Grand Prix Champion
2x Jr World Silver Medalist
2x Jr Pan American Gold Medalist
3x Senior National Champion
10X Junior National Champion
How do you feel like diving has shaped you into a champion, either in the water or in life or both?
Diving has shaped me into a champion inside and outside of the water because it has taught me determination, discipline, and time management. All of these qualities have shaped who I am as a diver and are transferred into my outside life and academics.
If you could give advice to a new diver or someone looking to get into the sport, what would it be?
Keep challenging yourself. It might be scary and its not always going to be easy but if you keep pushing, you can achieve anything.
What are you looking forward to most at this Olympic Games?
I'm looking forward to meeting other athletes
What is your favorite memory of diving?
My favorite memory of diving was when I won my first Junior National title.
How have you adjusted to your new title as Olympian?
It is still hitting me everyday that I am officially an olympian. Having people ask for picture and autographs has made me feel so proud and accomplished.
When you are not in the water, what are your favorite hobbies?
I love watching movies and spending time outside.
If you weren't a diver, what sport would you love to play?
Soccer
What are your long-term goals (either in diving or after diving?)
In the upcoming years, I want to become a NCAA champion and continue to train for Paris 2024. Outside of diving I want to pursue a degree in Biology and attend PA school post-graduation.
Who is your biggest inspiration and why?
My Brother is my biggest inspiration because his work ethic in anything he does amazes me. He always strives to be the best he can and does it with a smile on his face.
U.S. Olympic Team Trials - Diving -Women's 3M Olympians from Indiana Sports Corp on Vimeo.