Capobianco and Hixon Lead Men's 3-m Synchro, Parratto and Schnell Lead Women's 10-m Synchro
Indianapolis, Ind.- Day two of the 2020 Olympic Team Trials-Diving saw the preliminary and semifinal rounds of the Men's 3-Meter Synchro and Women's 10-Meter Synchro events. The Men's 3-Meter event saw 2016 Olympic Silver medalist in the event, Mike Hixon, pair up with Andrew Capobianco going head-to-head with 2016 Synchro Tower Silver medalists, David Boudia and Steele Johnson. Hixon and Capobianco, who have been diving together since 2018, took an early lead while Boudia and Johnson battled for second throughout both rounds with Greg Duncan and Grayson Campbell.
Hixon and Capobianco ended their impressive semifinal list by nailing their final dive, a Forward 4 1/12 Somersault Tuck for a score of 87.78 propelling their cumulative score after two rounds to 848.10. The duo sits 64 points ahead of both Duncan and Campbell as well as Boudia and Johnson who are currently separated by .63 points with Duncan and Campbell slightly ahead.
The Women's 10-Meter Synchro competition saw 2016 Olympian Jessica Parratto paired with 2019 World Championships Bronze Medalist Delaney Schnell for the first time ever in competition. The pair faced off against veteran duo Murphy Bromberg and 2016 Olympian Katrina Young. Throughout the first round, the duo traded places in the lead with Bromberg and Young, who won Bronze together at the 2019 FINA World Championships in the event, edging out Schnell and Parratto by less than one point in prelims.
The stiff competition continued throughout the semifinals with Parratto and Schnell eventually pulling ahead after an impressive
final three dives, their highest scoring being an Inward 3 ½ Somersault Tuck which scored a 73.92. Heading into the finals, Parratto and Schnell sit 23 points ahead of Young and Murphy with a cumulative score of 613.68.
Finals for both events will take place on Friday June 11, 2021 at 7pm EST. The event will be broadcast on the Olympic Channel as well as streamed on Peacock.
Athlete Quotes:
Andrew Capobianco
"We felt pretty confident, our training has been really good. We've been together for the last two weeks so it's been really nice to have consistent solid training."
On how they feel about individual events:
"Good, ready, like I said we have and really good training, both of us, this is a really good start, and we'll just keep it rolling."
On relation to how world cup scoring is different:
"A little bit, we come into this knowing we have to perform in all of our lists, so all three of them, but it's good for us we're very consistent in our dives and we're just excited to see what we can do in the final"
Michael Hixon
"The prelim is a final here"
"It's 18 dives here at the Olympic trials so you gotta do all 18. That's our mindset and we're moving on right now from that semifinal and we're looking forward to having a good final."
On how individual and synchro are intermixed:
"It was like that in 2016, so I have had some experience doing that with Sam. We know how to do it."
Jessica Parratto

"It felt really good. It's always kind of a really good feeling to get through those first ten dives and you know every dive counts. I was really glad about my consistency, our consistency. Really happy with today."
"I think again, it's really just landing on your head and being consistent. Just trying to sharpen things up, harder entries, harder rips. Just enjoy it and finish off really strong."
Delaney Schnell
"Both of us went into prelims and we both knew after that prelim that we had more in us. We definitely had more competitive fire in us. That semifinal was really exciting because that's definitely what we're capable of and I think we are capable of even more in the final."
"Dwight always likes to tell me to dive for the little girl that started in the first place. No matter what, just try to enjoy it."

Competition continues tomorrow with the preliminary and semifinal rounds of the Women's 3-Meter and Men's 10-Meter Individual events. Both preliminary events will be streamed on nbcolympics.com with the semifinals being broadcast on the Olympic channel as well as streamed on Peacock.
Results after Semifinals:
Men's 3-Meter Synchro
1. Andrew Capobianco/Michael Hixon 848.10
2. Greg Duncan/Grayson Campbell 784.89
3. Steele Johnson/David Boudia 784.26
4. Carson Tyler/Max Miller 717.48
5. Jack Ryan/Quinn Henninger 672.24
Women's 10-Meter Synchro
1. Delaney Schnell/Jessica Parratto 613.68
2. Katrina Young/Murphy Bromberg 590.22
3. Grace Lee/Remi Edvalson 390.00


Full Streaming and Broadcast Schedule: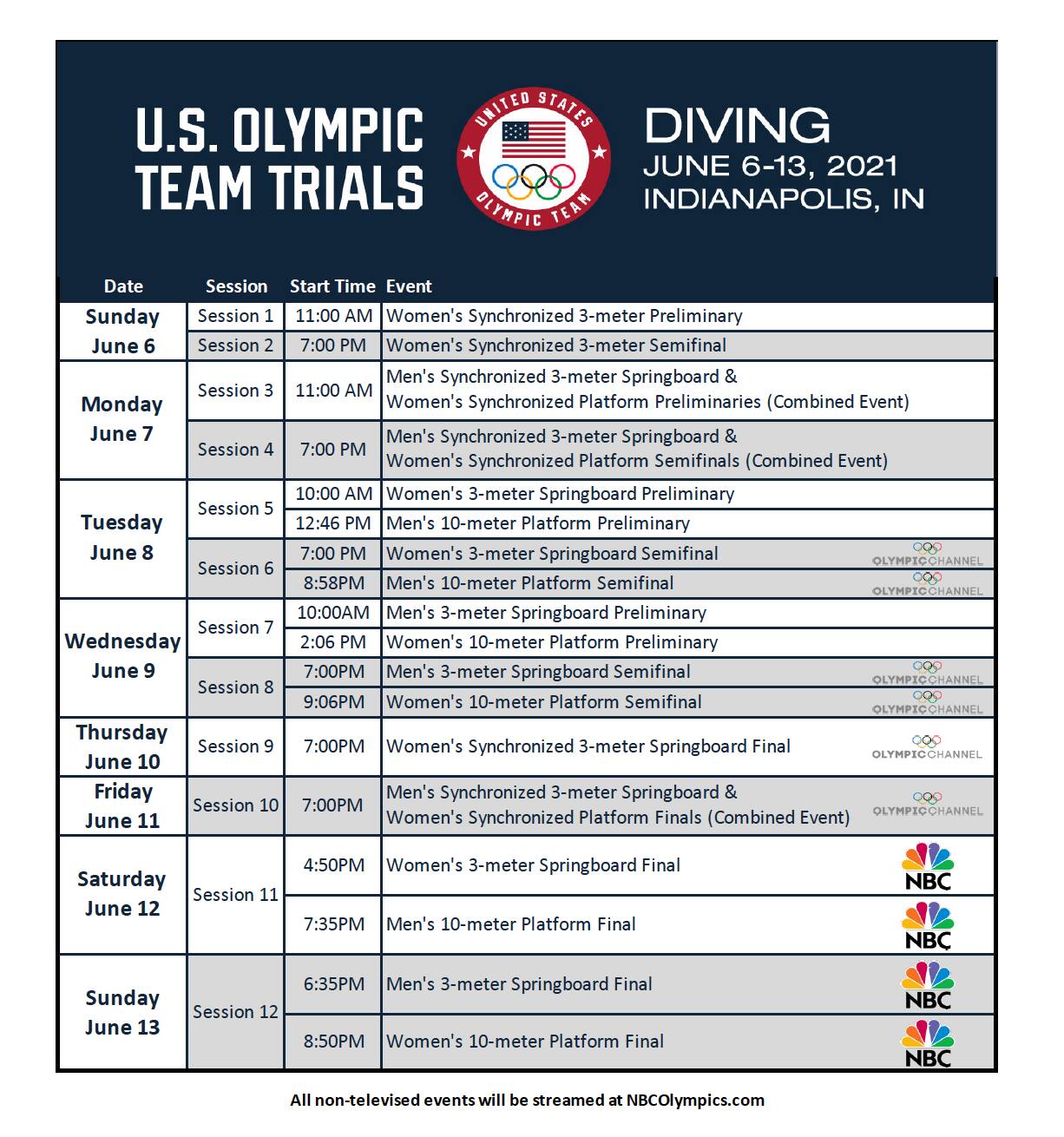 For the most up-to-date information on USA Diving be sure to follow us on Twitter, Instagram , TikTok and Facebook.

For more information about the U.S. Olympic Team Trials, visit: https://www.teamusa.org/USA-Diving/Events/2021/June/06/2021-US-Olympic-Team-Trials-Diving

For media information, photos for editorial use and more, please visit: https://www.indianasportscorp.org/events/2020-u-s-olympic-team-trials-diving-media

For media inquiries, please contact kelly@usadiving.org