Palmer and Loschiavo Come Out on Top During First Day of Individual Events
Indianapolis, Ind.- On the third day of the 2020 U.S. Olympic Team Trials- Diving, the preliminary and semifinal rounds of the Women's 3-meter and Men's 10-meter individual competitions were contested.
In the preliminary round of the Women's 3-meter, 18-year-old Hailey Hernandez came out on top in her first Olympic Trials. Hernandez put together a solid list, rounding it out with a Forward 2 ½ Somersault Twist Pike that earned her a 67.50 and a cumulative score for the round of 304.65. Krysta Palmer, Alison Gibson, Samantha Pickens and Sarah Bacon rounded top five for the morning.
In the semifinal round, Palmer climbed her way into the first-place position by the second round, eventually widening her gap back to second place Hernandez by 61 points. On her third dive of the round she scored an impressive 78 points on a Reverse 2 ½ Pike. Palmer ended her list scoring a 76.5 on her Forward 2 ½ Somersault 2 Twist Pike which, at a 3.4 degree of difficulty, was the hardest dive performed in the event. Palmer sits in first with a cumulative score of 655.15 for the first two rounds.
In the Men's 10-meter competition, recently crowned NCAA Champion Brandon Loschiavo consistently hammered out his lists in both rounds. In the first round, Loschiavo ended on a high note by scoring a 90.65 on his Forward 4 1 ½ Somersault Tuck. Loschiavo ended the first round with a score of 486.35, 43 points ahead of second-seated Jordan Windle.
In the semifinal round, Loschiavo did not look back and continued his strong performance, besting his preliminary round score on his Forward 4 1 ½ Somersault Tuck with a 94.35 and ending the day with a cumulative score of 956.60, 50 points ahead of Windle. Windle, who will also be competing tomorrow in the Men's 3m Springboard had two solid rounds of dives, scoring a 99.9 on his Forward 4 ½ Somersault Tuck in the first round.
Both the Women's 3-Meter and Men's 10-Meter Finals will be contested on Saturday June 12, 2021. The Women's event will air on NBC beginning at 4:50pm EST with the Men following at 7pm EST.
Athlete Quotes:
Krysta Palmer
I'm super excited. Really I just wanted to go out there and have fun and do my best, and I'm really proud of the list I was able to pull together in the semifinal. I have some great competitors I'm competing against, and I know they are right behind me. And I just for finals want to have fun and let loose and just enjoy the media because we don't get this often. It's fun to be behind the camera; it's fun to experience this once-in-a-lifetime opportunity. So I feel pretty excited right now. You know I try to visualize a lot before coming into Olympic Trials because it has been a long time since we competed, but I love competing, love performing. I think that's why we do what we do and that when I have the most fun, so really coming to this point, I was really excited to get out there and competing again. When Alison and I were the first pair to do the first dive off the 3-meter to start off the competition, that just felt like the best feeling. Now we are still really grateful for this opportunity because it could have gotten canceled, but we are here right now, so we are grateful.
Hailey Hernandez
"I'm feeling absolutely amazing. I'm just overwhelmed with emotions, but we still got a long way to go, and I'm just excited."
When asked about what she is looking forward to as she begins her collegiate career:
"I'm definitely looking forward to increasing my Degree of Difficulty and continue to evolve as a diver and potentially Olympics and other international meets as I continue on into my collegiate career."
When asked about how she is feeling heading into finals:
"I'm feeling pretty good. I'm just trying to go out there and have fun and just put together a really solid list. My mom and my dad are here."
Brandon
"I was fairly happy with this morning; I thought I was a little tighter when it came to arm stand and back twist. Tonight was a little bit harder because you had such a long downtime and come back and feel not as hot as in the morning because you were just warming up. I think it's a good learning experience for later meets, it was a little bit harder, but I keep focusing on staying tight and focus on my ques, and I was pretty happy with everything."
When asked if he felt competing collegiately this year gave him an edge over some athletes who were unable to compete due to COVID:
"Yeah, super helpful even if it was dual meets, you kind of don't notice it, but getting into a competition environment is massive, and so people who have not been able to do that, my heart goes out to them since it's a lot harder to take such a long break and come back to a meet like this one. It was a nice advantage."
When asked about this being his first Olympic Trials:
"I broke my wrist and didn't have the opportunity to compete in 2016. It's a really cool experience. I remember making the decision, I could have come to the 2016 Trials, but I would have to take some bone out of my hip to put into my wrist, and it was not something I wanted to do. Having the opportunity to be here is really exciting. I try not to focus on the results. The overall competition I'm really enjoying."
When asked what it's like to have his collegiate teammates here as well:
"It's super fun; we are a really rowdy team; everyone is loud and exciting. It really amps up the vibes for the meet."
Jordan
Prelims was really nice to get warmed up kinda getting my body use to competing with everyone. Getting into semifinal I was a little bit more comfortable with the spotting got a few dives off. I was nervous about prelims, so overall I was really happy with my performance. Hope to keep the ball rolling.
When asked about having his collegiate team here:
"I'm really happy that a lot of my team is here they have been working really hard, and they really deserve to be here. I'm really proud to dive next to them."
When asked if it's difficult to switch between platform and springboard in competition:
"It changes mentally and physically less strain on the body buy I think technic wise little more rigorous having to do with a little bit more balance less timing to finish your dive. Overall throughout the years I have been diving it's just been pretty normal for me to go from tower to 3-meter or 3-meter to tower and vice versa. It's just a normal day, and we will have some fun with it. I prefer 3-meter it's a lot more fun for me. Never was a fan of heights; I like to keep it as low as possible."
Women's 3-Meter Standings after Semifinals
1. Krysta Palmer* 655.15
2. Hailey Hernandez* 593.90
3. Alison Gibson* 591.45
4. Kristen Hayden* 568.95
5. Sarah Bacon* 568.00
6. Abigail Knapton* 559.30
7. Brooke Schultz* 549.60
8. Samantha Pickens* 533.80
9. Anne Fowler* 531.25
10. Kelly Straub* 530.05
11. Margo O'Meara* 525.30
12. Bridget O'Neil* 524.95
13. Charlye Campbell 515.00
14. Kyndal Knight 497.75
15. Emily Bretscher 495.35
16. Daria Lenz 489.00
17. Carolina Sculti 477.05
18. Joslyn Oakley 432.80
Men's Platform Standings after Semifinals:
1. Brandon Loschiavo* 956.60
2. Jordan Windle * 906.10
3. David Dinsmore* 827.70
4. Joshua Hedberg* 804.50
5. Jordan Rzepka * 801.05
6. Jacob Siler* 765.10
7. Tyler Downs* 764.85
8. Zach Cooper* 744.50
9. Carson Tyler* 743.65
10. Chase Lane* 719.30
11. Maxwell Flory * 706.20
12. Benjamin Bramley* 678.40
13. Andrew Harness 664.50
*Advanced to finals
Competition continues tomorrow with the preliminary and semifinal rounds of the Men's 3-Meter and Women's 10-Meter Individual events. Both preliminary events will be streamed on nbcolympics.com with the semifinals being broadcast on the Olympic Channel as well as streamed on Peacock.
Streaming and Broadcast Schedule: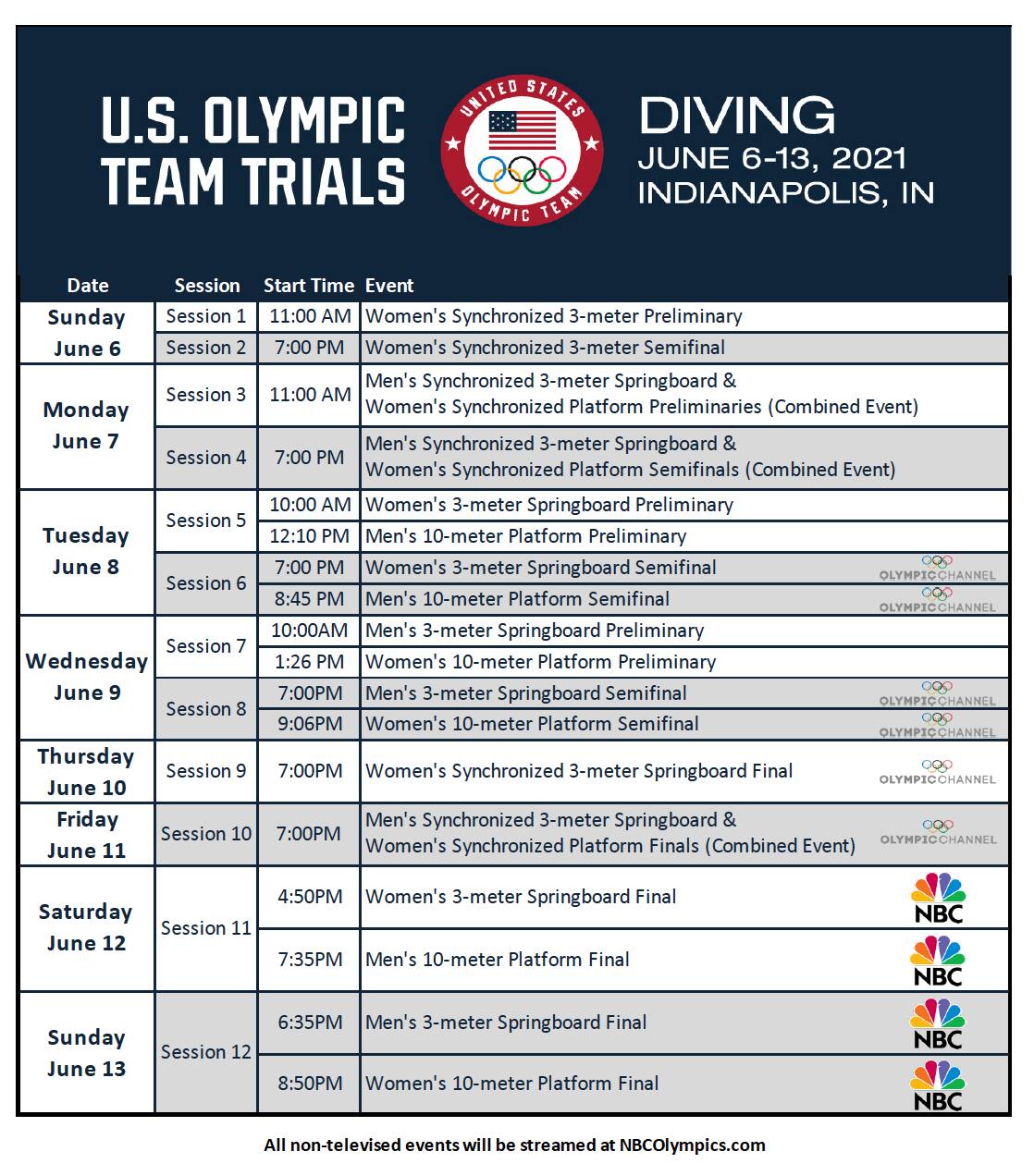 For the most up-to-date information on USA Diving be sure to follow us on Twitter, Instagram , TikTok and Facebook.

For more information about the U.S. Olympic Team Trials, visit: https://www.teamusa.org/USA-Diving/Events/2021/June/06/2021-US-Olympic-Team-Trials-Diving

For media information, photos for editorial use and more, please visit: https://www.indianasportscorp.org/events/2020-u-s-olympic-team-trials-diving-media

For media inquiries, please contact kelly@usadiving.org