Bacon Takes Home Silver in Three Meter Individual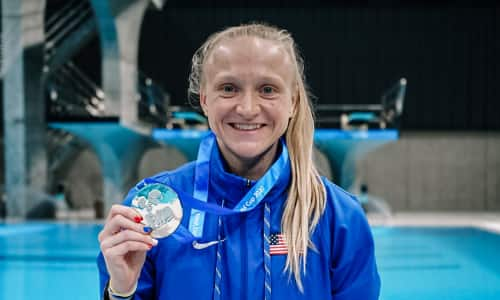 Tokyo, Japan- On the fourth day of the FINA World Cup, Sarah Bacon, Samantha Pickens and Zachary Cooper competed in the Women's 3-meter and Men's 10-meter finals respectively. Bacon, who qualified second into the final round, continued her impressive performance into the final round scoring a total of 438.75 earning her second place behind China's Yiwen Chen.
Bacon bookended her list with her two best scores starting her list with an inward two- and one-half pike and ending with a full-out, both receiving scores of 73.5. Bacon's silver medal marks the first time in over 30 years that a female has medaled in the 3-meter springboard at a World Cup, the last time being the Kelly McCormick's bronze medal finish at the 1989 World Cup.
"The feeling of accomplishing this is indescribable," said Bacon, "Wenbo and I have put so much time and work into the past year into my 3- meter diving and getting to a point where I was able to be consistent and then to have it show through on all three of my lists, I just couldn't be any prouder."
Pickens also competed in the 3-meter final finishing in 12th place with a total score of 255. In the Men's 10 Meter Competition, Cooper finished 12th with a score of 384.20.
"Today was a great day for Sarah," said Dan Laak, High Performance Director for USA Diving, "Over the years we have seen her develop into a true competitor and to see it come to fruition and her make history today is a testament to her work ethic. I am looking forward to seeing how she continues to progress. I'm also extremely proud of both Sam and Zach for coming on this trip and stepping up when we needed them in order to ensure our ability to compete in Tokyo. To see them not only compete but make the finals just shows not only their abilities, but also the great depth of talent we have within USA Diving."
Competition continues tomorrow and Team USA's Briadam Herrera will compete in the Men's 3-meter individual event.
All preliminary events will be live streamed on fina.org as well as their YouTube Channel. The finals will be broadcast live on the Olympic Channel.
USA Diving will be covering this event live, so be sure to follow us on Twitter, Instagram and Facebook.
For additional information on the FINA World Cup, visit fina.org.
For media inquiries, please contact kelly@usadiving.org