History in the Making: Kristen Hayden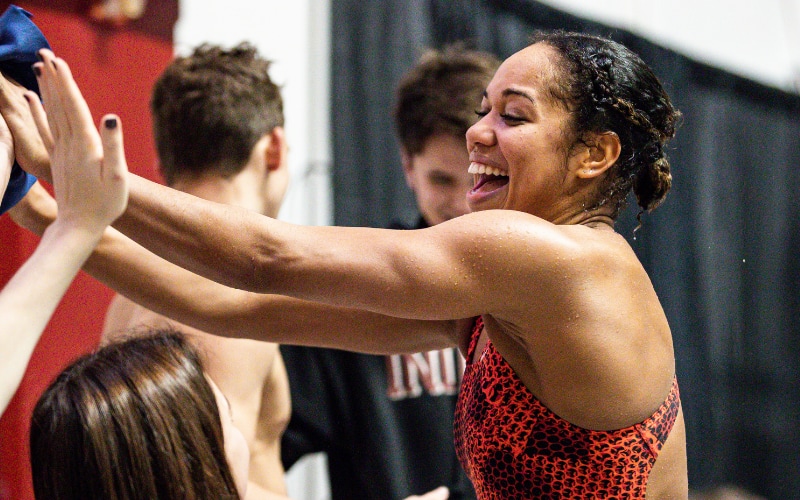 2021 will always be a year that the diving community will remember, and so will Kristen Hayden.
Kristen's phenomenal 2021 season kicked where she placed 4th in the 3-Meter Individual Finals and 5th in the Synchronized 3-Meter Finals and culminated at the 2021 Winter Nationals where she won the Synchronized Mixed 3-Meter title with teammate Quinn Henninger as well as medal in the both other events she competed earning silver in the Women's 3-Meter Synchro and Bronze in the Individual event.
When asked after the competition how it felt to be the first Black Female National Champion, she said, "I don't think words can even describe the feeling, you read about people like that, you watch Serena Williams, Simone Biles, Simone Manuel, but when it's yourself it's insane. I think the whole diving community is headed in the right direction and I just want to be a good example for young Black Americans or any minority really for diving in the U.S."
Kristen wasn't always a diver, but she always loved heights.
"When I was a kid, I would always get in trouble for crawling up wall units at home and shelves in the library," Hayden laughed.
Growing up in New Jersey, Hayden was involved in a variety of activities, including gymnastics, soccer, ballet, jazz, hip hop, water polo and cross country.
One summer, when Hayden was 10 years old, she was doing summer swim league and gymnastics. A coach at her gym said, "Why don't you just combine the two and try diving?"
Hayden decided to try it, and because of her natural athleticism, she was good at it. When she decided halfway through her sophomore year of high school that she wanted to take it seriously, she quickly became a force to be reckoned with in the diving community.
"I love diving because I'm pushing my body beyond its limits," said Hayden. "Diving has made it so much easier for me to face my fears, both in sport and in life. Whether it's presenting a paper or interviewing for a job, I approach fear now from a different standpoint. I kind of like fear. I like doing things that scare me and overcoming them."
Although Hayden had quickly become a talented diver, she often had difficulty understanding everything her coach was saying. She also struggled to understand a lot of her schoolwork
"I knew I was not dumb; however, it would take me longer than everyone else to do tasks such as grasp a concept, read a page in a book, or finish a test," said Hayden. "My frustration grew until I was tested and discovered that I have a learning disability. I have a Central Auditory Processing Disorder, which is the inability to understand spoken language in a meaningful way in the absence of what is commonly considered a hearing loss."
With this condition, a brain can take twice as long to process information. It explained why she read slower and took longer to finish a test. She learned that her brain could not distinguish between certain short vowel sounds, therefore hampering her ability to fully grasp certain phrases or statements or instructions. Suddenly, it made sense why she was having trouble understanding her coach.
Shortly after her diagnosis, Hayden enrolled in The Lewis School of Princeton, a school for students with similar learning disorders. As she embraced the skills and tools she needed to overcome the challenges she faced, she began excelling academically just as she had athletically. Halfway through her senior year, she relocated to Indiana to train under John Wingfield and currently is diving at Indiana University while pursuing a graduate degree.
When asked what she's learned the most from diving, Hayden said. "If you want to do something in life, it may take time and a lot of repetition, but it's worth it."
"I want to see where my ability takes me, and I want to push myself beyond my limits. Wherever that takes me, I'll be happy."