Get to Know Olympian Alison Gibson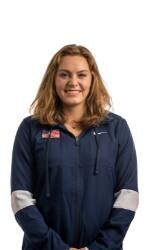 Do you have any nicknames your teammates or family members gave you?
Big Al, Albert, Al
Hometown
Austin, Texas
Social Media Handles
Instagram: @aagtexas
How did you get into diving?
I was a swimmer. One day I was talking to Matt Scoggin, and he told me I should try diving. A few months later, I was on the diving boards. I fell in love with the sport immediately.
Where do you currently train?
University of Texas Lee and Joe Jamail Swimming Center
Who is your role model?
My brother Grant. He has had a significant impact on my life.
Most meaningful accomplishments
Starting DNA (Developing Neighborhood Athletes). DNA is a fundraiser where college athletes help raise money that is then donated to young aspiring athletes that come from less fortunate families. Other accomplishments include being president of SAAC my senior year of college, getting into graduate school, winning an NCAA championship, making the U.S. Olympic Team and winning senior nationals.
How do you feel like diving has shaped you into a champion, either in the water or in life or both?
Diving has taught me many lessons about my self and the world around me. It has taught me patience, perseverance, grit and empathy. It has also taught me how to fail and get back up. All of the skills I have learned can be directly applied to my life, career and relationships.
If you could give advice to a new diver or someone looking to get into the sport, what would it be?
Always remind yourself of what made you want to dive in the first place. It is easy to get caught up in the sport and loose sight of why you are really doing what you are doing.
What are you looking forward to most at this Olympic Games?
I am excited to compete with other athletes in other sports as Team USA. In the past at international competitions, I have see other athletes from other sports, but we all compete under separate team names such as USA diving, USA water polo, etc... At the Olympics it's different. We all get the same gear and we all compete as Team USA which is really unique and incredible.
What is your favorite memory of diving?
My favorite memory of diving, was winning NCAAs my freshman year of college. Freshman year was really hard for me. I was a homeschooled 17 year old thrown into the chaos of college and it was a bit of a culture shock. Winning the NCAA championship was the very first moment that I felt like I was in the right place. It helped me realize that no matter how old I am or what I'm going through, if I put my mind to something and work hard anything is possible.
How have you adjusted to your new title as Olympian?
I still don't think it has really sunk in. It's crazy that something I worked so hard for so many years has finally come to fruition.
When you are not in the water, what are your favorite hobbies?
Spending time with friends, hiking, going to the lake, cooking, baking, drawing and trying new things.
If you weren't a diver, what sport would you love to play?
I would have loved to be an ice skater, but last time I actually tried to ice skate I was on the ice more then I was on the skates.
What are your long-term goals (either in diving or after diving?)
Long-term, I would love to potentially write a book and work with young athletes who are going through the growing pains of becoming elite athletes. I'm incredibly passionate about helping young athletes. A sport can either be a great blessing or a heavy burden. I want to inspire athletes to see the blessings in their sports even when the road ahead seems impossible.
Who is your biggest inspiration and why?
My biggest inspiration is Eddie Reese, the UT men's head swimming coach. I've known him since I was 8 years old. Even though he is one of the greatest swimming coaches in the world, he was always so kind to me. He was at the pool every day building relationships with his athletes, inspiring them and pushing them. He pours himself into his job and loves what he does. He inspired me to be humble, kind, passionate, empathetic and hard working.
U.S. Olympic Team Trials - Diving -Women's Synchro 3M Olympians from Indiana Sports Corp on Vimeo.