Get to Know Olympian Andrew Capobianco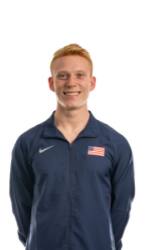 Do you have any nicknames your teammates or family members gave you?
Derz
Hometown
Holly Springs, North Carolina (Wantagh, New York)
Social Media Handles
· Instagram: ajcapo99
· Twitter: ajcapo_99
· TikTok: @ajcapo99
How did you get into diving?
I started gymnastics when I was 9 and fell in love with flipping. Then, I took a field trip to a neighborhood pool and I was doing flips off of the diving boards. The diving coach there, Lauren Murphy, invited me to join the diving team and I loved it. That summer I joined a USA Diving club team, Long Island Divers with George Taylor III.
Where do you currently train?
Indiana University, Bloomington
Who is your role model?
David Boudia was my role model growing up and, even though we are now competitors, I still have so much respect and admiration for his attitude on and off the pool deck. He has done so much for our sport and is also a great role model by showing balance in his life with his diving, family, and faith.
Most meaningful accomplishments
Winning NCAA Championships 2x for IU. It is always so special to compete my best for the school that has provided me with so much and I love knowing that all my IU family is cheering me on from back home. Making the U.S. Olympic Team. It has been a dream of mine since I started gymnastics when I was 9 and there has just been so much dedication and hard work put into this dream by not just myself, but my family, teammates, coaches, and support staff. It makes me so happy to hear from all of the people who have supported me all these years and celebrate that we finally reached this goal!
How do you feel like diving has shaped you into a champion, either in the water or in life or both?
I feel like diving has given me a champions mentality because I have learned to set goals and work at them with everything I have while still having balance in other areas of my life. The most important thing I have learned from being a part of the diving community is to appreciate the people you get to surround yourself with everyday. I feel so lucky to be in USA Diving's small community and I have been able to meet and learn from some incredibly inspiring people.
If you could give advice to a new diver or someone looking to get into the sport, what would it be?
I would say to have fun and never forget why you started the sport. Sometimes we get caught up in our goals and forget about the amazing opportunity we have to do what we love with great teammates and friends. I would also say to try to make small improvements everyday because these small improvements will eventually get you to your goals if you keep working hard!
What are you looking forward to most at this Olympic Games?
Getting to meet all the other athletes and learn more about their stories and sports. I am hoping to get the chance to go watch some other sports. I am also really excited about the gear!
What is your favorite memory of diving?
My favorite memory in diving was when our IU Women's Swim & Dive team won the B1G title in our home pool. It was just so electric on that pool deck and it was amazing to see all the hard work pay off for them and all the pieces come together at the right time. Then, the next week our Men's team also won B1Gs and it was just so exciting to have both teams win for the first time in program history!
How have you adjusted to your new title as Olympian?
It took a while for it to set in that I reached this lifelong goal of mine, but now that it has set in, I'm just excited to experience it all and inspire the younger generation of aspiring Olympians.
When you are not in the water, what are your favorite hobbies?
Hiking, running, playing volleyball and tennis
If you weren't a diver, what sport would you love to play?
Gymnastics because it was my first love as a sport. If not, I would love to play volleyball (though I might need to grow a few inches)
What are your long-term goals (either in diving or after diving?)
I am hoping to stick around after this Olympics and train for the 2024 Olympics and possibly the 2028 Olympics, because I think it would be so special to have the chance to qualify and compete at a home Olympic Games. After my diving career I hope to become a coach at the junior and collegiate level and help USA Diving grow our sport!
Who is your biggest inspiration and why?
My twin brother, Matt, is my biggest inspiration because he has been through so much in his life and always keeps fighting and overcoming obstacles
U.S. Olympic Team Trials - Diving -Men's Synchro 3M Olympians from Indiana Sports Corp on Vimeo.