Get to Know Olympian Delaney Schnell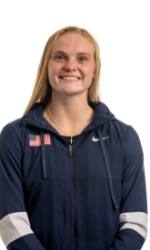 Do you have any nicknames your teammates or family members gave you?
Teammates call me Dee and my family and close friends call me Laney
Hometown
Tucson, Arizona (born in Iron Mountain, Michigan)
Social Media Handles
· Instagram: Laney_Schnell
How did you get into diving?
Old gymnastics teammate who I saw diving. I told her I wanted to quit and she told me to try diving.
Where do you currently train?
Tucson, Arizona
Who is your role model?
My coach Dwight Dumais
Most meaningful accomplishments
Bronze medal at Worlds in 2019
How do you feel like diving has shaped you into a champion, either in the water or in life or both?
N/A
If you could give advice to a new diver or someone looking to get into the sport, what would it be?
Make sure you enjoy doing it. It's never fun participating in something you don't enjoy doing. Not everyday is going to be good and that's okay. It's really a bit of a love/hate relationship sometimes but that's okay.
What are you looking forward to most at this Olympic Games?
Competing at the highest level is definitely an exciting opportunity. I'm looking forward to meeting athletes in all different sports from around the world. Sometimes these people become life long friends so it's very cool to get to meet new people.
What is your favorite memory of diving?
I loved coming to the pool when I was young after a long day of school and just being able to be with my friends. Everyone you grow up diving with become life long friends and you all love diving so it was always fun and still is fun coming to the pool where you get to see some of your closest friends.
How have you adjusted to your new title as Olympian?
It still hasn't sunk in entirely but I am super honored to finally call myself an Olympian especially because it is a very exclusive title.
When you are not in the water, what are your favorite hobbies?
I love playing piano. Cooking/baking. I love cleaning as a way of stress relief! If I'm ever feeling anxious or overwhelmed cleaning my house gives me a sense of calm. Haha I know that's probably super weird!
If you weren't a diver, what sport would you love to play?
I loved gymnastics. If I had to chose another sport I would definitely say that I would have stuck with gymnastics.
What are your long-term goals (either in diving or after diving?)
Work as a speech-language pathologist
Who is your biggest inspiration and why?
My mom is a huge inspiration for me. She has been through a lot and I admire the way she raised me and my two other siblings. She taught us many valuable tools to take with us in life.