Hernandez, Schnell, Cooper and Flory Punch Tickets to Japan on Day Two of the 2021 USA Diving Winter Nationals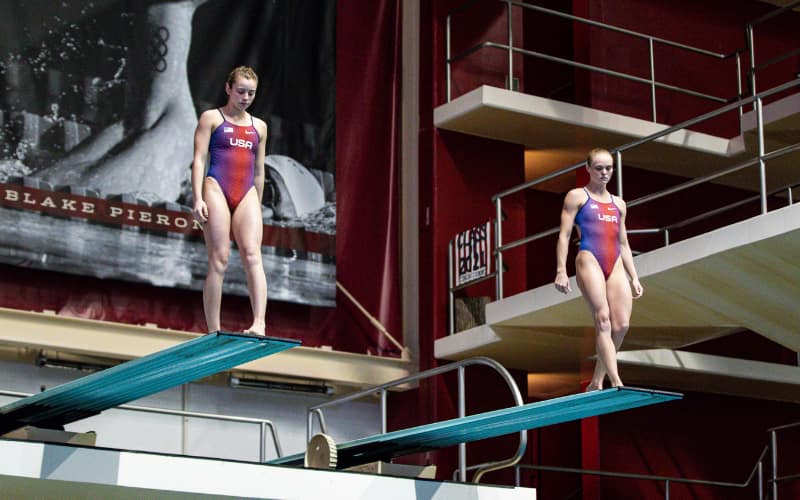 Bloomington, Ind.- Day two of the 2021 USA Diving Winter Nationals saw four divers added to the roster for the upcoming FINA World Championships in the Women's Synchronized 3-Meter and Men's Synchronized Platform competitions.
2020 Olympic Silver Medalist, Delaney Schnell (U of Arizona) paired up with Tokyo teammate Hailey Hernandez (Texas) in the 3-Meter Synchronized event. The pair, who averaged 7.5's on their dives throughout the competition, nailed their first preliminary dive and never looked back. They ended their list with a Forward 2 1/2 Somersault 1 Twist Pike with a high score of 67.5 ending the two round competition with a cumulative score of 573.3. Kristen Hayden (Indiana), who won the mixed 3-Meter competition the day prior, paired up with Margo O'Meara (Duke) to earn the silver in the event with a cumulative score of 512.1. Bailee Sturgill (RipFest) and Lily Witte (Legacy Diving) rounded out the podium with a score of 478.32 to earn bronze.
Schnell will compete in the Women's Synchronized Platform tomorrow while Hernandez will compete in both the Individual 1-Meter and 3-Meter later in the week.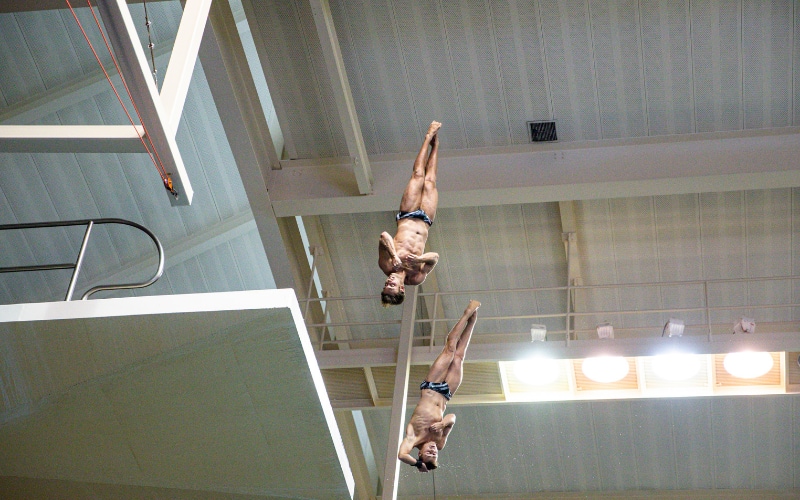 It came down to the last dive in the Men's Synchronized Platform competition. University of Miami duo, Zachary Cooper and Max Flory faced off against 2020 Olympian, Tyler Downs and Purdue teammate Jordan Rzepka. After winning the preliminary round by less than 10 points, Flory and Cooper went into their final six dives focused on earning a spot on the World Championship team. Flory and Cooper lead the finals from the first dive with Downs and Rzepka gaining momentum and chipping away at the point differential. After the pair from Purdue nailed their fifth dive, a Reverse 3 1/2 Somersault Tuck for 81 points, Flory and Cooper's lead dwindled to less than five points. Downs and Rzepka nailed their final dive, a Back 2 ½ Somersault 1 ½ Twist Pike, for 8's ending the competition at 722.64 cumulative points. This was not enough to overtake Flory and Cooper who saved their most difficult dive, a Forward 4 ½ Somersault Tuck, for last and ended the day with 725.88 total points and the gold medal.
Cooper will turn his attention to the individual Platform competition while Flory will compete in both the individual 3-Meter and Platform events.
Day Two Final Results
Women's Synchronized 3-Meter
1. Hailey Hernandez / Delaney Schnell 573.30
2. Kristen Hayden / Margo O'Meara 512.10
3. Bailee Sturgill / Lily Witte 478.32
4. Carolina Sculti / Kyndal Knight 470.91
5. Brooke Schultz / Sophie Verzyl 457.50
6. Avery Worobel / Kaylee Bishop 448.83
7. Daria Lenz / Bridget O'Neil 440.91
8. Avery Giese / Taylor Fox 431.19
9. Jacqueline Brenn/ Amanda Ling 408.66
10. Katerina Hoffman / Gianna Lawrence 402.48
11. Simone Hall / Gabrielle Filzen 300.90
Men's Synchronized Platform
1. Maxwell Flory / Zach Cooper 725.88
2. Tyler Downs / Jordan Rzepka 722.64
Competition will resume tomorrow at 10:00 am EST with the combined qualifying rounds of the Women's 10-Meter Synchronized and Men's 3-Meter Synchronized events with the finals being held at 4:00 pm EST. All events will be streamed live on USA Diving's Facebook, YouTube, and Twitch Channels as well as on USA Diving's website.
For a complete list of entries, visit: https://secure.meetcontrol.com/divemeets/system/meetinfoext.php?meetnum=7305
For more event information, visit: https://www.teamusa.org/USA-Diving/Events/2021/December/13/Winter-Nationals
To purchase tickets, visit: https://usadiving.ticketspice.com/2021-usa-diving-winter-national-championships
USA Diving will be covering this event live, so be sure to follow us on Twitter, Instagram and Facebook.
For access to daily press releases, photos for editorial use as well as video clips for editorial use, please visit the event's media microsite. For media inquiries, please contact kelly@usadiving.org