Happy Holidays from USA Diving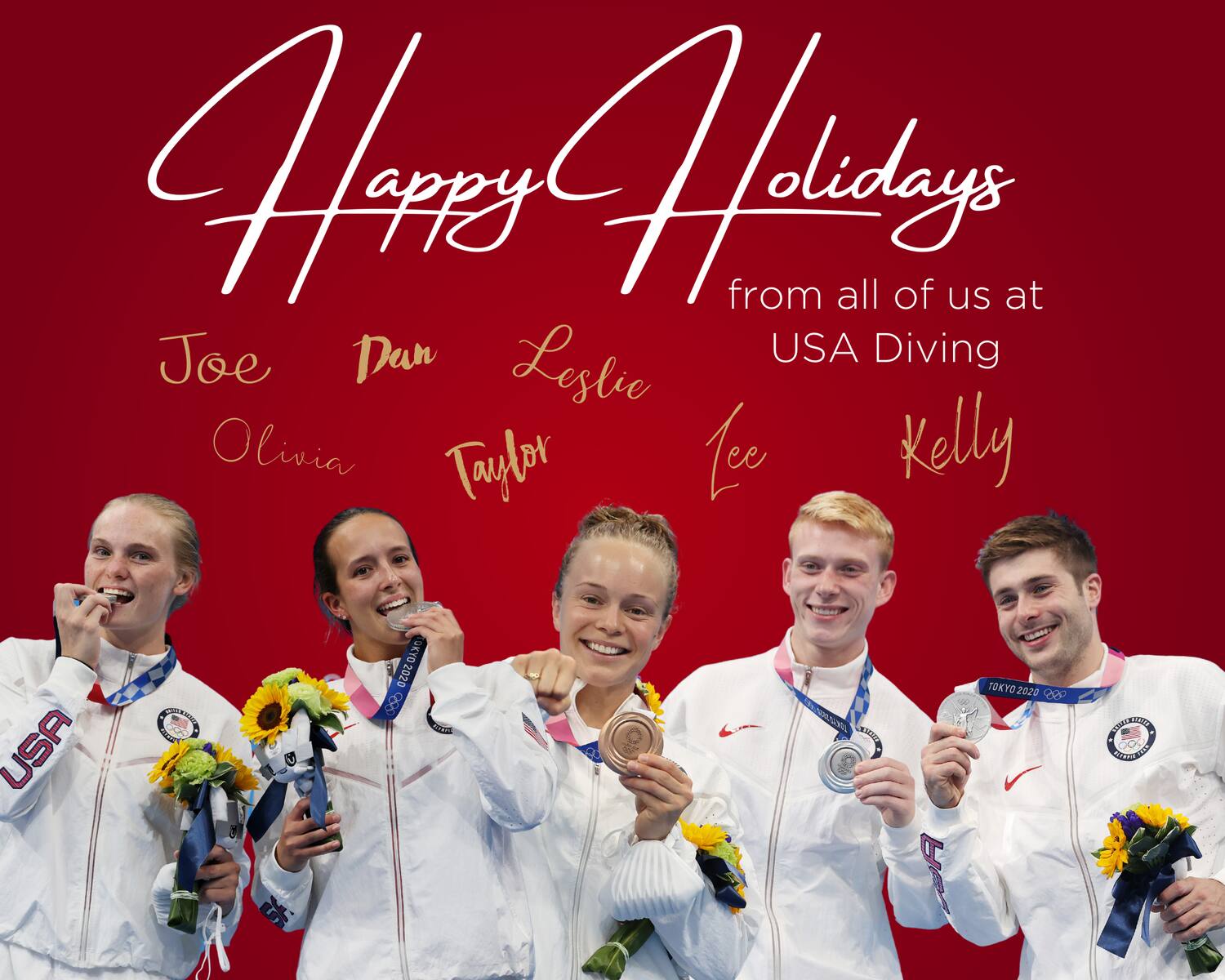 Dear Members of our Diving Community,
We've had much to celebrate in 2021. After more than a year of being apart, we were able to get back in the water. We successfully and safely hosted our Olympic Trials, two National Championships, the US Open of Diving, the first annual High Diving Challenge and the 2021 UANA Junior Pan American Championships.
We watched as Sarah Bacon, Kassidy Cook, Samantha Pickens, Michael Hixon, and Andrew Capobianco earned Team USA an additional four Olympic Quota spots with Sarah earning the first woman's WorldCup medal in Springboard in over 30 years.
We came together at the Olympic Trials and watched with pride and amazement as our athletes competed for the opportunity to represent our country.
We cheered Team USA on as they represented the U.S. at the Olympic Games. We saw Jessica Parratto and Delaney Schnell become the first Americans to earn an Olympic Medal in the Women's 10-Meter Synchro, Andrew Capobianco and Michael Hixon earn the U.S. their third consecutive medal in the Men's 3-Meter Synchro and Krysta Palmer earn Team USA's first individual Women's Springboard medal since 1988
We glimpsed into our bright future as we crowned 24 Junior National Champions, earned 7 medals at the Junior Pan American Championships as well as won the first Junior Pan American Team Championship in 10 years and earned five medals at the first-ever Junior Pan American Games.
We witnessed history as Kristen Hayden became the first-ever Black Female National Champion.
These are a few of the moments that stick out to us from this year, and we know that there are many more happy memories to be made in 2022 and beyond.
Our office will be closed from December 23, 2021-January 5, 2022, to allow our staff time to recharge their batteries and enjoy their families. We'd like to extend our best wishes to our Diving family over this holiday season. We look forward to seeing you in the New Year.
In the meantime, please take a moment to look back over the past year with us through this video.
Sincerely,
The USA Diving Staff
Lee, Dan, Taylor, Leslie, Kelly, Joe, and Olivia