Gibson and Palmer Lead 3 Meter Synchro after Semi Finals
Indianapolis, Ind.-
Day one of the 2020 Olympic Team Trials- Diving saw the preliminary and semifinal rounds of the Women's 3-Meter Synchronized competition. Seven synchro teams competed in the event, including two of the youngest divers in the competition, Kaylee Bishop, age 14 and Avery Worobel, age 15.
The duo of Alison Gibson and Krysta Palmer took an early lead in the prelims after World Cup Finalists Sarah Bacon and Kassidy Cook balked on their second dive. Gibson and Palmer ended the first round of competition with a total score of 291.45 having ended their list with a Forward 2 ½ Somersault 2 Twist Pike (5154B), nearly 25 points ahead of second-place Cook and Bacon's 266.46. This competition marked first time the duo of Gibson and Palmer added the 5154B, commonly referred to as a double out, to their list, making them one of the only female synchro teams in the world to compete this 3.4 degree of difficulty dive.
Heading into the semifinal round, Cook and Bacon were able to secure 306.93 points, bringing their cumulative score up to 573.39, still 21.45 points behind Gibson and Palmer heading into Thursday's final round.
The finals will be contested Thursday, June 10, 2021 at 7pm and will be broadcast on the Olympic Channel.
Standings after Semifinals:
1.

Alison Gibson/Krysta Palmer

594.84 points
2.
Sarah Bacon/Kassidy Cook
573.39 points
3.
Samantha Pickens/Carolina Sculti
532.53 points
4.
Kristin Hayden/Margo O'Meara
513.00 points
5.
Hailey Hernandez/ Emily Grund
510.90 points
6.
Daria Lenz/Charlye Campbell
478.17 points
7.
Kaylee Bishop/Avery Worobel
463.47 points
Athlete Quotes:
Krysta Palmer
"I definitely feel Alison and I did really well together. I think our chemistry that we have together just improved over this last year just through COVID even though we couldn't see each other still we are able to contact each other through FaceTime and all of that. So, I am just so grateful. I think her and I went out there and just wanted to have fun. We did that. We are excited it's a little different this year we have three list we have to do typical it's just two. I think the first two lists we did were pretty solid. I think we feel pretty confident going into the third round."
Alison Gibson
"I was really happy of how we did. This is our first time completing double out ever. Being able to do that well in the prelims also in the semi really good. I am having a lot of fun competing with Krysta. I think this gives us a lot of confidence going into the finals. I haven't competed in over a year and half so a prelim and semi that were really consistent and solid was really nice. It reminds me I love the sport, I got this. It's really nice gives me a lot of confidence."
Sarah Bacon
"Our prelim list definitely wasn't what we were looking for this morning. Semifinal we did better, we are still capable of doing more than that. With Kassidy's shoulder injury she is being a little timid right now. We are hoping she can get that rested going into finals. Personally, individually, I feel great. I hit every single dive, every list this morning, and semifinal tonight. I feel confident going into the final and I hope that Kassidy's shoulder holds up and we can pull it off."
Competition continues tomorrow with the preliminary and semifinal rounds of the Men's 3-Meter Synchro and Women's 10-Meter Synchro, these will be run as combined events and streamed on nbcolympics.com at 11am EST for preliminaries and 7pm EST for semifinals.
Full Streaming and Broadcast Schedule: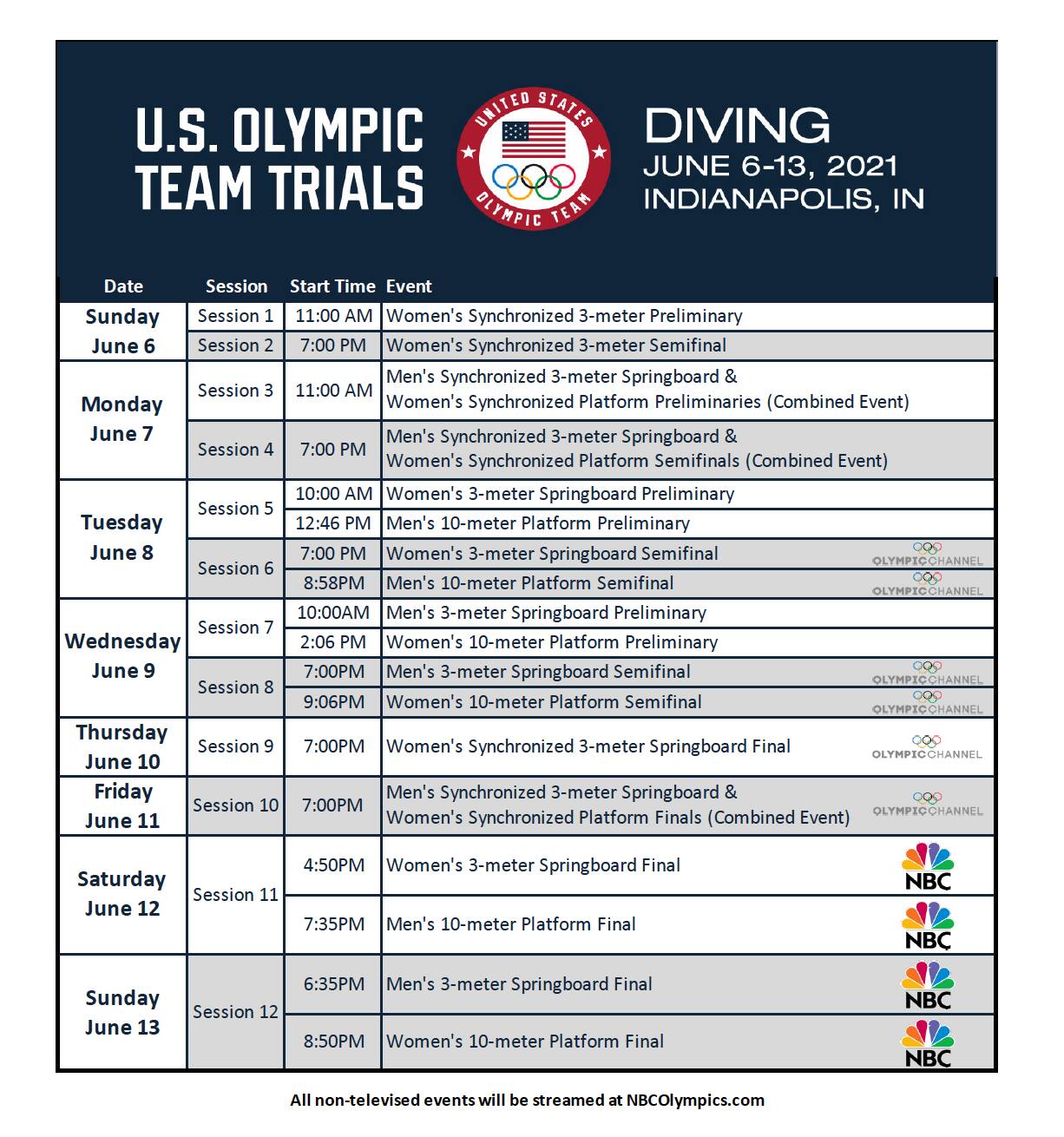 For the most up-to-date information on USA Diving be sure to follow us on Twitter, Instagram , TikTok and Facebook.
For more information about the U.S. Olympic Team Trials, visit: https://www.teamusa.org/USA-Diving/Events/2021/June/06/2021-US-Olympic-Team-Trials-Diving
For media information, photos for editorial use and more, please visit: https://www.indianasportscorp.org/events/2020-u-s-olympic-team-trials-diving-media
For media inquiries, please contact kelly@usadiving.org